Upcoming Anime
Attention anime lovers, here is the list of upcoming anime for the rest of this month and all of next month. Hope you find something that catches your eye!
March
BNA: Brand New Animal (3/21/2020)
Summary: In the 21st century, the existence of animal-humans came to light after being hidden in the darkness of history. Michiru lived life as a normal human, until one day she suddenly turns into a tanuki-human. She runs away and takes refuge in a special city area called "Anima City" that was set up 10 years ago for animal-humans to be able to live as themselves. There Michiru meets Shirō, a wolf-human who hates humans. Through Shirō, Michiru starts to learn about the worries, lifestyle, and joys of the animal-humans. As Michiru and Shirō try to learn why Michiru suddenly turned into an animal-human, they unexpectedly get wrapped up in a large incident.
April
Summary: Tower of God centers around a boy called Twenty-Fifth Bam, who has spent most of his life trapped beneath a vast and mysterious Tower, with only his close friend, Rachel, to keep him company. When Rachel enters the Tower, Bam manages to open the door into it as well, and faces challenges at each floor of this tower as he tries to find his closest companion.
Summary: Yomi Takeda was the pitcher of her school's team in junior high, but her baseball club did not get far because it lacked a catcher that could catch Yomi's "miracle ball." Yomi quit baseball, graduated from junior high, and enrolled at Shin Koshigaya High School. Yomi reunited with her childhood friend Tamaki Yamazaki at her new school. Tamaki has skill as a catcher and can even catch the ball when Yomi pitches with all her strength. The girls can fulfill their childhood promise to each other as they start their baseball journeys anew.
The 8th Son? Are You Kidding Me? (4/2/2020)
Summary: Shingo Ichinomiya is a normal, average employee for a trading company. He wakes up one day to find himself inhabiting the body of Wendelin, a five-year-old boy. And the eighth son of a destitute noble family in a fantasy world.
Summary: Kakushi Gotō doesn't want his daughter Hime to know that he is a manga creator.
Wave, Listen to me! (4/3/2020)
Summary: The stage is Sapporo, Hokkaido. One night, Minare Koda, spills her heartbroken woes to a radio station worker she meets while out drinking. The next day, she hears a recording of her pitiful grumbling being played live over the air. Minare storms into the station in a rage, only to then be duped by the station director into doing an impromptu talk show explaining her harsh dialogue. With just one recording, the many eccentric facets of Minare's life begin to pull every which direction as she falls ever deeper into the world of radio.
Summary: Set in a world where the concept of music ceases to exist. The story begins when a boy encounters Myuu, a mysterious girl who possesses an audio input jack in her body. The two intermingle with the history of rock music and embark on an unforgettable journey.
Shin Sakura Taisen the Animation (4/3/2020)
Summary: In 1930, two years after the events of So Long, My Love, the Great Demon War results in the annihilation of the Imperial, Paris and New York Combat Revues' Flower Divisions. With Earth at peace and the revues' actions becoming public, the World Combat Revue Organization is formed with several international divisions; a biennial international Combat Revue tournament has been organized.
Ten years later in 1940, Imperial Japanese Navy captain Seijuurou Kamiyama is assigned as the captain of the new Imperial Combat Revue's Flower Division in Tokyo, which consists of: Sakura Amamiya, a swordswoman and new recruit; Hatsuho Shinonome, a shrine maiden and the most popular actress; Anastasia Palma, a newly-transferred Greek actress; Azami Mochizuki, a ninja prodigy from the Mochizuki clan, and Clarissa "Clarise" Snowflake, a Luxembourgian noblewoman. The division once again faces a new demon invasion and participates in the upcoming tournament–while trying to keep their home at the Imperial Theater open.
Bungō to Alchemist: Shinpan no Haguruma (4/3/2020)
Summary: In a world where you can meet famous Japanese historical writers. With a party composed of other writers, you delve into tainted books to purify them, unlock secrets, and gain new allies.
Summary: Daigo is born as the son of Gorou, a father who is too great. What path will Daigo, who is burdened with great expectations, take in baseball?
Summary: 16th century Firenze, Italy. The birthplace of the Renaissance Era, where art is thriving. In one small corner of this vast city, one sheltered girl's journey begins. Arte dreams of becoming an artist, an impossible career for a girl born into a noble family. In those days, art was an exclusively male profession, with women facing strong discrimination. In spite of these challenges, Arte perseveres with hard work and a positive attitude.
My Next Life As A Villainess: All Routes Lead to Doom! (4/4/2020)
Summary: After hitting her head particularly hard one day, Duke Claes' daughter, Katarina, suddenly recalls all the memories of her past life: that of a teenage Japanese girl. It seems in her past life, Katarina was playing a video game very similar to the life she lives now right before she died. She is now Katarina Claes, the antagonist of the otome game, who nastily hounded the protagonist until the end. Knowing all the possible outcomes of the game, she realizes that every single possible route ends with Katarina being murdered or exiled. In order to avoid these Catastrophic Bad Ends, she has to use her knowledge of the game and her own wiles, starting with breaking off this engagement with the prince.
Yesterday o Utatte (4/4/2020)
Summary: Rikuo has graduated from college, but has zero ambition or direction and works in a convenience store. A strange high-school dropout, Haru, keeps coming around with her pet crow. Rikuo still has a crush on his senior Shinako, who is beginning a teaching career, and who shows up in the store one day. Rikuo's relationships with the girls, and his feelings about his life, keep changing as the story evolves, bringing in other important characters—Rikuo's co-worker, the coworker's sister, and a childhood friend of Shinako's, etc.
Summary: A gyaru named Kaede picks up a dinosaur and begins living with it in her room. The dinosaur eats human food, watches TV, and even enjoys being fashionable.
Ascendance of Bookworm (4/4/2020)
Summary: The story centers around Urano, a young Japanese soon-to-be librarian who dies in an earthquake. Luckily, she gets reincarnated in another world as a young girl named Myne but learns that books are scarce and only provided to prestigious elites. Myne (retaining her memories from her previous life) decides to create and print her own books so that she can read again.
Yu-Gi-Oh! Sevens (4/4/2020)
Summary: Goha City is governed by its largest corporation, "Goha Corp", everything from schooling, to Dueling rules, to much of daily life. The Megacorp, Goha Corp, runs the metropolis called "Goha City". Goha Corp doesn't just control Dueling, they also have a major say in the daily necessities of its city's citizens, such as food, clothing and even shelter.
Yu-Gi-Oh! SEVENS follows Yuga Odo, who attends Goha Seventh Elementary, decides to change this world which is too cramped for kids, and battles with his road "Rush Duel" while believing in his creations.
Idolish7 Second Beat! (4/5/2020)
Summary: A group of aspiring idols gather at Takanashi Productions and are entrusted with the company's future. The seven men who have just met represent a variety of totally different personalities. However, they each have their own charm and possess unknown potential as idols. Forming a group, they take their first step together as "IDOLiSH7." Their brilliantly shining dancing forms onstage eventually begin captivating the hearts of the people. In the glorious but sometimes harsh world of idols, they aim for the top with dreams in their hearts!
Shachibato! President, It's Time for Battle! (4/5/2020)
Summary: The isekai (alternate-world) strategy role-playing game is set in a world where dimensional gates suddenly appeared in the skies, opening portals to countless dungeons. The story imagines if the player is a company president who employs adventurers to take on dungeons filled with monsters for the treasures that lie within. The player "recruits" or trains fighters, mages, knights, hunters, rogues, and other classes of employees, and then dispatches the employees into battles.
Summary: Shūichi Kagaya is an intelligent and friendly high school student satisfied with his normal everyday life, which is why he is very careful to protect his secret: that he can transform into a terribly cute monster. But one day he uses his powers and risks discovery to save a girl.
Digimon Adventure (4/5/2020)
Summary: Taichi is in fifth grade and preparing for a summer camping trip when a large-scale network malfunction occurs. Taichi's mother and his younger sister Hikari get stuck on a train that won't stop moving, and Taichi heads to Shibuya in order to help them. However, on his way there, he encounters a strange phenomenon that sweeps him up into the Digital World along with the other DigiDestined.
Tsugu Tsugumomo Season 2 (4/5/2020)
Summary: There's no information for the second season just yet but here's the trailer, so enjoy!
Summary: A middle school girl named Yume sees something fall from the sky, and meets a pale violet-colored kitten named Mew. It turns out that Mew has the power of "Yume Synchro" (Dream Synchro), the power to enter dreams. In the dream world, the girl and Mew collect Dream Stones.
Tomica Kizuna Gattai Earth Granner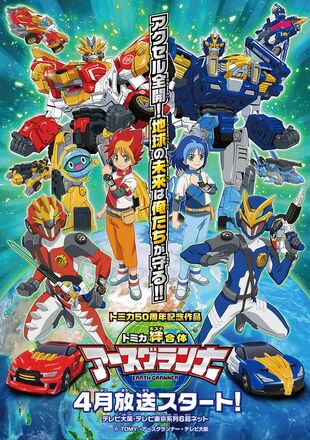 Summary: A mysterious enemy from space called "Dark Spinner" appears, and they're after Earth Energy, which is generated by the earth's rotations. The ones who stand up to stop them are twin brothers, Raiga and Kuga, together with the earth defense team Earth Granner. But will they be able to protect the earth?
Dropkick on my Devil! Dash Season Two (4/6/2020)
Since I couldn't really find any actual information about the second season enjoy the trailer!
Princess Connect! Re: Dive (4/6/2020)
Enjoy the trailer!
Shironeko Project: Zero Chronicle (4/6/2020)
Summary: In a world consisting of numerous isles, a young hero from the Astora Isle encounters the adventurer Kyle and follows him on an expedition on the isle. They meet a mysterious girl named Iris and a talking white cat, and together they make their way to the isle's ruins, where they find a flying island
Fruits Basket Season 2 (4/6/2020)
Enjoy the trailer!
Again not much information about this anime so enjoy the trailer!
Hōkago Teibō Nisshi (4/7/2020)
Summary: Hina is an indoor-oriented girl who likes crafts and moves to a seaside town to continue with her high school education. She meets upperclassman Kuroiwa as she walks along an embankment and joins the mysterious "Embankment Club." Hina dislikes sea creatures, but she fishes with her fellow club members and eats their catches. She gradually starts to appreciate the appeal of the ocean.
Komatta Jii-san (4/8/2020)
Summary: This comedy centers around an old man who pulls stereotypical actions on old women and makes their hearts flutter.
Gundam Build Divers Re:RISE Season 2 (4/9/2020)
Fugō Keiji Balance: Unlimited (4/9/2020)
Summary: The incredibly wealthy Daisuke Kanbe audaciously solves cases in unconventional ways. Kanbe is assigned to the "Modern Crimes Task Unit", a unit created to keep problematic officers away from others. There, Kanbe becomes partners with Katō.
Yahari Ore no Seishun Love Come wa Machigatteiru. Kan (4/9/2020)
Summary: Third season of Yahari Ore no Seishun Love Comedy wa Machigatteiru.
Appare-Ranman! (4/10/2020)
Summary: After a certain mishap, the brilliant but socially inept engineer Appare Sorano and the shrewd but cowardly samurai Kosame Isshiki find themselves drifting on a boat from Japan to America. Broke, the two decide to compete in the Trans-America Wild Race to win the prize and return to Japan. The two battle crazy rivals, outlaws, and the great outdoors itself as they race through the wild West from the starting line in Los Angeles to the finish line in New York, in the steam-powered car they built.
Argonavis from BanG Dream! (4/10/2020)
Summary: Argonavis from BanG Dream! is set in Hakodate, Hokkaido. Characters of the first band, Argonavis, consists of five first-year university students. They begin their debut with their "0th Live" was held July 29, 2018. The second "0th live" was held on September 15 following the third live on December 10 of the same year. The lives were held at Shimokitazawa GARDEN. Argonavis' first original song, "Steady Goes!" was distributed for free for those who attended their first "0th" live.
Food Wars! Shokugeki no Soma: The Fifth Plate (4/10/2020)
Summary: Teenager Soma Yukihira aspires to become a full-time chef in his father Joichiro's family restaurant and surpass his father's culinary skills, but Joichiro gets a new job that requires him to travel around the world and closes his shop. Joichiro has Soma enroll in Totsuki Saryo Culinary Institute, an elite culinary school where students engage in food competitions called shokugeki. He secures himself a spot at the school, despite the objections of Erina Nakiri, the talented granddaughter of the school's dean. Soma is assigned to Polaris Dormitory where he meets other aspiring chefs, including Megumi Tadokoro. The story follows his adventures as he interacts with his peers and challenges Totsuki's students as well as others in shokugeki competitions. Learning that his father was not only a student of Totsuki, but also the second seat in the Council of Ten; Soma plans on becoming the best at the academy.
Cardfight!! Vanguard Gaiden if (4/11/2020)
Summary: The series will explore an alternate universe to the main series, and will focus on Kouji Ibuki, an antagonist in the Cardfight!! Vanguard Movie: Neon Messiah, and Suiko Tatsunagi.
Hakushon Daimaō 2020 (4/11/2020)
Summary: This new anime is a slapstick gag comedy story, set 50 years after the 1969 anime, with Kan-chan's grandchild Kantarō Yodayama meeting Akubi as she goes on a journey to prepare to be queen. In the human world, Kantarō and Akubi go on various adventures, getting jobs, and learn the importance of having dreams.
Woodpecker Detective's Office (4/13/2020)
Summary: In 1909, Takuboku Ishikawa runs a private detective agency to support his family. He and Kyōsuke Kindaichi begin to investigate a case of supposed ghost appearances at the Asakusa Jūnikai building, also known as the Ryōunkai.
TV Yarō Nana-na Kaibutsu Kraken o Oe! (4/16/2020)
Summary: The third season of the Wacky TV Nanana anime.
Olympia Kyklos (4/20/2020)
Summary: A king from Ancient Greece is transported to the 1964 Tokyo Olympics.